13th Dec 2021
Message to our patients – update on the COVID-19 booster programme
Across Sussex the NHS and its partners are working extremely hard to roll out the COVID-19 booster vaccination programme to our communities.
All adults are eligible from Monday 13 December, and you will be able to book via the National Booking System from Wednesday 15 December.
You can book your booster for 3 months from the date of second vaccine, and you can access the National Booking System to book the appointment from 2 months.
We are working at pace to increase the availability of appointments so that there are plenty of options for people on the National Booking System. Some local vaccination services will also contact patients directly.
New appointments are being added every day across our vaccination services. We have been offering more than 80,000 appointments a week and in the last two weeks we have increased the number of available appointments by more than 10,000 a week. Further availability will come online from Wednesday 15 December
We will be working with all our sites to take further steps to increase what they can offer again, including opening later and on more days.
All these appointments will be added to the National Booking System and so we encourage everyone who is aged 18 and over, is yet to have their booster and who is approaching 3 months from your second vaccine to use the National Booking System to arrange your appointment when you are able to do so.
In terms of any planned appointments with Selsey Medical Practice there are no changes at the current time, and everyone should attend your planned appointments as normal. If we need to make any changes, we will contact you directly.
See more about the vaccination programme in Sussex, including the vaccination services: COVID-19 vaccinations - Sussex Health & Care Partnership (sussexhealthandcare.uk)
18th May 2021
Mini Vaccination Centre Update 18th May 2021
As you may have heard, the Government have announced that we can now offer second doses at 8 weeks after the first, rather than the previous 11-12 weeks. The teams at the Selsey and Tangmere Centres have been working hard to reschedule their planned early June clinics and deliveries at short notice. They are now able to offer you some new dates, earlier than you may have been expecting.
Selsey will be open this Thursday 20th all day and next Wednesday 26th in the morning. Tangmere will be open Friday 21st in the afternoon & Saturday 22nd all day.
The clinics planned for early June at each centre are now cancelled.
If you received your first AstraZeneca vaccination at one of these centres you should be sent a text to book your second dose soon. If you don't hear anything, please telephone 0333 370 4111 to book. Please share this information with anyone you think may be waiting.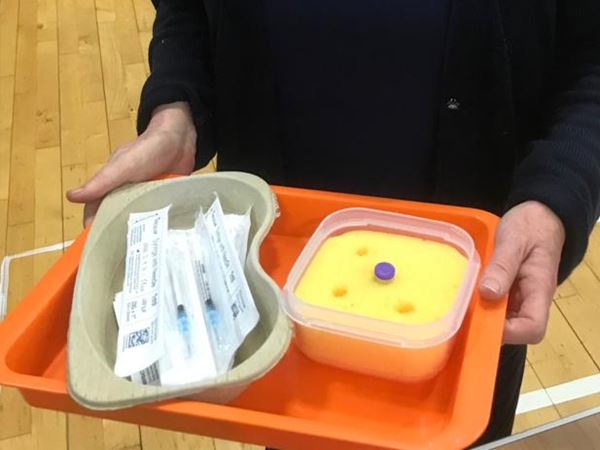 14th May 2021
Vaccination Centre Update 14th May 2021
The vaccination clinics in the Selsey Centre and Tangmere Centre are drawing to a close and will end on 6th June 2021. They have made a huge contribution to the vaccination of residents in the wider Chichester area by delivering over 53,000 vaccinations. We thank you for your support.
The first part of this update is directed to the few members of the population who awaiting their second dose.
Pfizer Vaccinations
These clinics have now delivered their final Pfizer vaccination. If either:
you received your first Pfizer vaccination at one of these sites and are still awaiting your second, or
you received a first Pfizer vaccination elsewhere but have now moved into the area and are still awaiting your second,
please try to book this second Pfizer vaccination via the national booking service at https://www.nhs.uk/conditions/coronavirus-covid-19/coronavirus-vaccination/book-coronavirus-vaccination/ or telephone 119.
If you are unable to book via the national booking service, please forward your contact details to sxccg.vaccineenquiries@nhs.net, explaining that you require a second Pfizer vaccination.
AstraZeneca Vaccinations
The Tangmere and Selsey centres are still running a limited number of AstraZeneca clinics. If you received your first AstraZeneca vaccination at one of these centres and have not yet arranged your second, please telephone 0333 370 4111 to book.
Vaccinations for Under 40s
If you have already received your first Covid vaccination from the Tangmere Centre or Selsey Centre, and are awaiting your second, please follow the guidance above.
First Vaccinations
If you have not had your first vaccination but are currently eligible for the vaccine, please book this via the national booking service at https://www.nhs.uk/conditions/coronavirus-covid-19/coronavirus-vaccination/book-coronavirus-vaccination/ or telephone 119.
If you are unable to book via the national booking service, please forward your contact details to sxccg.vaccineenquiries@nhs.net, explaining your circumstances and that you require a Covid vaccination.
Please do not contact Selsey Medical Practice or any other GP surgery as we do not have the ability to book you into any of these clinics.
The second part of the update is a huge thank you to all of our marshalls, administrators and vaccinators, but especially to Karen and Charlie Walker who have been instrumental in running our centre here in Selsey. Karen is a very experienced nurse, and she has trained and led our team of vaccinators, as well as managing the vaccine store and medical supplies (amongst many other roles!) Charlie is a GP, and he has provided excellent medical cover and advice for all of our visitors. He has also learnt how to do many other roles and has willingly stepped in to provide welcome breaks for members of the team. Above all they have been like the mum and dad, caring for our family of volunteers here. Karen and Charlie are off for a well-earned break now, but hopefully they are reassured that the Centre will be in safe hands for the last few sessions without them.
The photo shows the final vial of Pfizer vaccine which was prepared on Thursday afternoon- a symbolic and rather moving moment for us all, and a time to reflect on the good work done here in Selsey.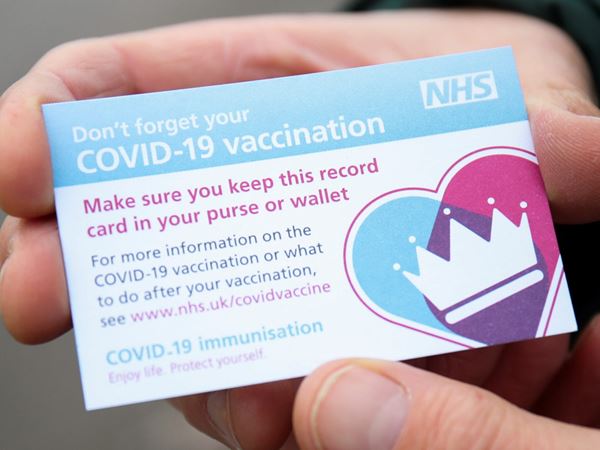 8th May 2021
Vaccination Centre Update 8th May 2021
After a bit of a wait, (and a few requests!) the update is back!
The Selsey Centre has been busily providing second doses for our list of patients in groups 1-9. Vaccine supplies have been quite reliable which means that we have been able to schedule these 11-12 weeks after the first dose. Under current rules, all patients must have the same vaccine, so the bookings team have had to do some clever coordination to make sure we include everyone. Teams of nurses and doctors have also visited care homes and housebound patients. It has been good to see some familiar faces coming through the doors for a second time, but we have also welcomed many patients who had their first doses at Tangmere or other places further afield. We have felt rather proud to receive so many kind comments about the efficient and friendly experience from those using our service - thank you.
There may be a small number of patients who have not been called yet, or not been able to attend their second dose for some reason. If this applies to you (or a friend/relative) and your first dose was over 11 weeks ago, please contact the bookings team by telephone: 0333 370 4111, Monday to Friday, 8.30am-12.30pm. This is especially important if you had the Pfizer vaccine, as our final Pfizer delivery is coming next week, with only AstraZeneca available after then.
The Selsey and Tangmere teams have worked very effectively (and many of our volunteers work at both centres, so we are very much in this together), but it has always been the plan that our local service would be wound up when we had reached all of our most vulnerable patients and when the national service was in a position to take on the younger groups. This is now the case. On the 6th of June we will deliver our last jab at Selsey. There is a wide mixture of feelings amongst the team. Of course, they have all accomplished an amazing result (because of their response to this awful pandemic, over 27,000 doses have been given in Selsey so far), so they should certainly feel proud of their achievements. However, there will also be some sadness to be disbanding because they have formed close bonds and lots of new friendships through working so closely. Many of us will also have to "reinvent" ourselves, as we return to "normal life", especially if employment was curtailed during the last year. Some of the team have expressed an interest in a future role within the NHS or other caring services, because the experience has revealed to us all, just how rewarding this can be.
Some visitors have asked about "vaccine passports" and unfortunately, we can't shed much light on this. We have heard that there may be a way of using the NHS app, and we will keep you informed if we hear any more. Do keep your cards safe for the time being! We have also been asked about autumn "boosters". Again, we have not heard anything but many of us feel we should concentrate on vaccinating the rest of our population first, as well as helping our fellow human beings in other parts of the world who are facing the same pandemic with less resources than we fortunately have.
There will certainly be some celebrations in June, and after dismantling the centre and returning it as we found it, we are sure the team will have a good (and safe!) party, but we are still conscious that many people are still awaiting their first dose. We hope that you are all vaccinated soon and that we can all return to a more normal life.
12th Apr 2021
Vaccination Centre Update 12th April 2021
They "got shot" twice! And so have over 2000 recent visitors to the Selsey Centre, which re-opened for business last week. We have now begun to offer second vaccinations to the first cohorts who originally came back in mid-January. Currently we are running Pfizer clinics at the centres, and there is also quantity of AstraZeneca for Care homes residents and staff, and our housebound patients (everyone will have the same type of vaccine for both doses).
It has been really uplifting to see these people again - many of whom are very elderly, but also lovely to be able to spend a few moments chatting with them; especially those who have been isolating and who may not have seen anyone else for such a long time now. There is certainly a great atmosphere, and the team of marshals, administrators and vaccinators are glad to be working together again in such a positive way.
If you had your first dose 11 weeks ago at Selsey or Tangmere you should shortly be contacted by the bookings team to organise your second appointment. They will send a text if possible, so you can make your own appointment online, but if you don't have access to this technology, they will also ring you on the phone number you have registered with your GP practice. If you feel you have been missed and you had your first dose about 12 weeks ago, please contact the bookings team on 0333 370 4111, Monday to Friday, 8.30am-12.30pm. Please do not ring this number before your 12 weeks is up, as they won't be able to book any further than one week ahead of the current date and we are not allowed to carry out second doses any sooner.
Because all of our vaccine supplies and clinics are now scheduled exclusively for second doses, we are not offering any more first doses at either local centre. If you are in the "second wave" of younger adults, you will be offered your first dose at one of the mass-vaccination sites, such as Westgate. We have heard that Westgate has not been allocated any vaccine for the next couple of weeks, but hopefully this situation will soon change, and the programme can continue at the good pace that has been set so far.
Many of our visitors have asked about "vaccine passports". We don't know any more about this than we have picked up from the national news, but if we do hear any more, we will let you know. For now, we recommend keeping your vaccination cards safely. The first cards we issued did not always have names on and were necessarily handwritten, but all of our latest cards, including second dose cards, contain full printed details of the vaccination, so, at least they look a bit more official!
Let's all hope that as lockdown eases and more of us are vaccinated, we can all start to enjoy the re-opening retail and hospitality that Selsey has to offer - but please let's continue to do so thoughtfully and safely.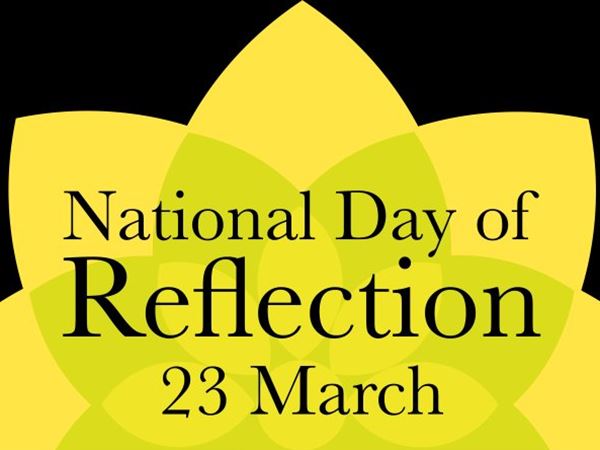 23rd Mar 2021
Vaccination Centre Update 23 Mar. 21
It's been a while since the last update. Today is the National Day of Reflection and it marks one year since the start of the first lockdown. Many people are pausing to consider the effects that the pandemic has had on all of our lives.
As you may have heard on the national news, the roll out of vaccine at the local centres has been hampered by a lack of vaccine deliveries.
The systems we have developed at the Selsey Centre are working fantastically well though, and when we received a one-off batch of AstraZeneca last weekend, all previous records were broken with over 800 doses delivered on Saturday alone! Vaccination figures for our population are good news too; over 91% of people in cohorts 1-9 (the "first phase") in Selsey have had their first dose.
We are sorry but we won't be getting any more vaccine for first doses for the foreseeable future and the few remaining over 50's will need to book into a mass-vaccination site, such as Westgate for theirs - it's frustrating for all concerned, but we hope you understand that we have done our best to provide this locally.
We have been promised that the first wave of vaccine for second doses will begin to arrive at the beginning of April. When we have confirmed deliveries, the bookings team will begin to contact the first groups, who originally came in mid-January. Everyone who came to Selsey or Tangmere should be contacted in due course for their second appointment, which will be approximately 11 weeks after the first. You should expect to be called to the same site as your first dose and will also have the same type of vaccine.
Care homes and housebound patients will also be visited in the same way as before.
We were impressed by the support that many showed by helping their elderly neighbours, friends and family members to organise and attend their appointments last time. We hope you will be able to do so once more, so that everyone can get their second dose, and we can all look forward to better times ahead.
Please look out for future announcements and the latest information, which will also be shared on the Selsey Medical Practice website https://www.selseymedicalpractice.co.uk/covid-vaccination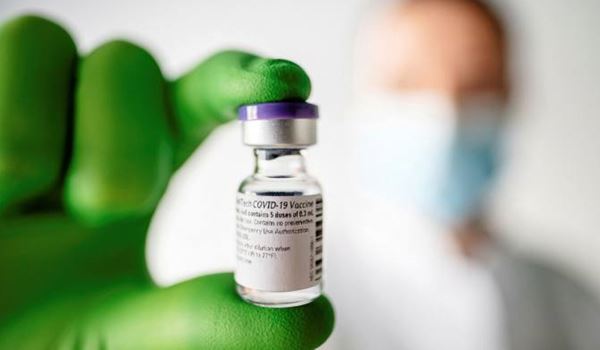 18th Mar 2021
Vaccination Centre Update 17 Mar. 21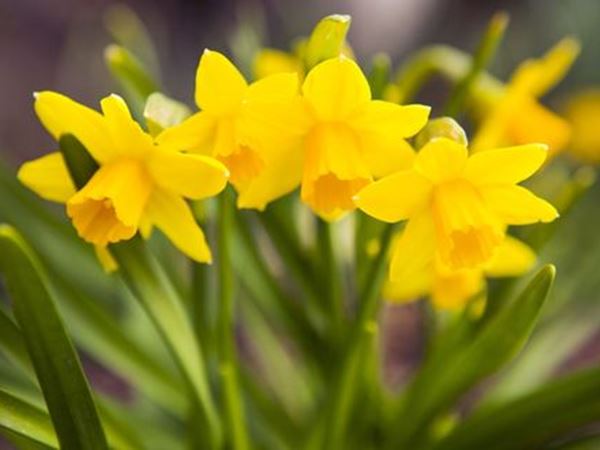 5th Mar 2021
Vaccination Centre Update 5th Mar. 21
The Selsey Centre has only been able to open for one day this week (today). This is because we have only received a very small quantity of vaccine. The team opened up all five "pods" and gave over 470 doses of AstraZeneca vaccine during the morning session to some very grateful patients from the ChAMP area practices. This is a record performance for the team and shows how efficient and successful this local site can be. It also means that we are very near to completing the rollout of first doses to cohorts 1-7 (age 60 and over, plus younger patients in at-risk groups).
We have recently been told that the time frame for second doses may be brought forward. This means that instead of waiting for 12 weeks for the booster, you may be called as early as the ninth week. We will be sharing detailed information about this as soon as we know more, and we recommend keeping an eye on our vaccination web page https://www.selseymedicalpractice.co.uk/covid-vaccination as well as our updates on social media.
If you are still waiting for your first dose, please don't panic as we will be running clinics for first and second doses at the same time. We will be giving you the same type of vaccine for the second dose - for example; if you had Pfizer first time, you would also have Pfizer for the second dose.
As the first patients to have the vaccine were over 80 and some may not have internet access, we hope that relatives and neighbours will be able to assist us by sharing information and also helping them to make their bookings, should they need it. We plan to provide a phone number and email address where the bookings team can be contacted but they will also make use of the GP lists as they did before.
We think next week will be another frustratingly quiet one as we have no more vaccine, but we have been promised a bountiful supply after Mother's Day, so we expect to become really busy again in the week beginning 15th March.
It was lovely to hear so many kind comments today and the team felt that Spring was in the air as the doors to the hall were open, allowing in some welcome sunshine. It feels like we are beginning to move into a brighter, new season in more ways than one.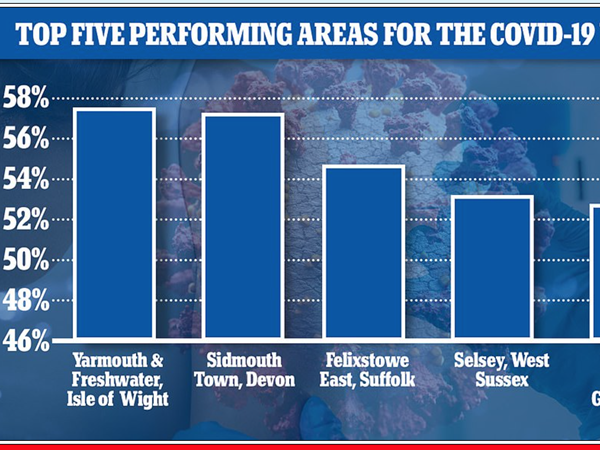 25th Feb 2021
Vaccination Centre Update 25 Feb. 21
I am absolutely amazed and proud about what our fantastic Selsey Centre Team have achieved. The photo is a screenshot of the front page of today's Daily Mail online site - Selsey is officially in the top 5 best performing sites for Covid Vaccination in the whole country! Comment from our Clinical Supervisor Dr Walker was "Fan-bloody-tastic"!!
Today we delivered dose number 13,000 from our locally run and supported site, and the mood was so positive.
When we started out, we took 3 days to dispense a batch (1100 doses) of the Pfizer vaccine, but we can do that now in less than 2. Everyone involved has thought of and implemented ways to make things work better and more efficiently in their particular area, but we continue to meet our main objective, which is to treat all of our visitors with kindness, care and good humour. Some people are understandably nervous about being vaccinated or even just being close to other people after such a long time in isolation, but our marshals, administrators and vaccination team are like a large welcoming family and really understand and support those coming through the doors.
One area which has helped a lot is the clever scanning system which now means we can issue a pre-printed card which our admin team can scan into the computer system. This speeds up the process and ensures accuracy when searching for your details on the national database. Once your vaccination is recorded, a record is sent to the vaccination service and your registered GP, so they can see that you have had your jab. These details will be used when calling you for the second dose, which should be about 12 weeks after the first, so keep an eye on those phones nearer the time!
We have been vaccinating down to cohort 7 (those over 60 years old) this week. Vaccine supplies seem to have ground to a temporary halt though, and we will only be able to offer one clinic next week (Friday 5th March). This is desperately frustrating for us all, especially when we are so good at delivery, but we hope that supplies and Government decision makers will move in our favour as we all want to get the population vaccinated as soon as we can. I know we would like to beat the targets, not just meet them, but annoyingly, our hands are tied.
Finally, I would like to personally thank all of our marshals. I have had the privilege of working alongside many of them and I have been able to discover a little about their backgrounds and interests, and what lovely people they are. Every shift we have roles for 10-11 marshals (over 20 per day). They give their time freely and willingly and apart from a good supply of cake, there is not much we can offer them in return. Many have told me of the wonderful comments they receive from you about the difference they are making to everyone's lives in our community and they have noticed that the Centre could not run without them, and I think that's the point. When a delivery of vaccine is promised, the shifts are published online for the marshals, and they are all gone in a few minutes - such is their enthusiasm!! So, when you do finally get your call for a vaccination, please do let them know what a good job they are doing.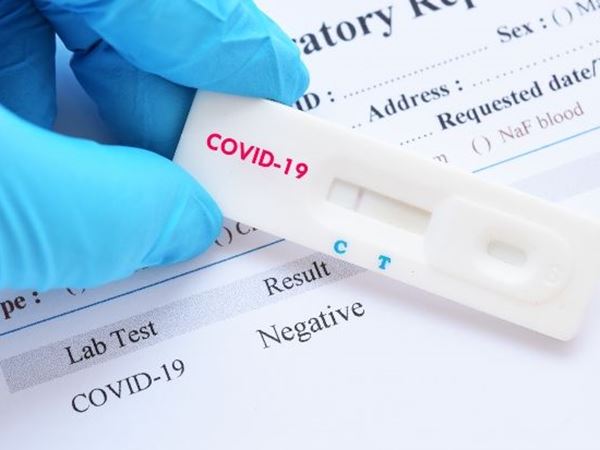 16th Feb 2021
Vaccination Centre Update 16 Feb. 21
We have been vaccinating at the Selsey Centre for exactly one month and we are very pleased to report that 29.9% of patients from the Chichester Alliance of Medical Practices (ChAMP) have now received their first Covid Vaccination. While this figure has largely been achieved through the hard work of our vaccination teams in The Selsey Centre and The Tangmere Village Centre, we also wish to recognise the sizeable contribution made by the vaccination clinic in St Richard's Hospital. Had ChAMP's performance been replicated across the rest of the UK, the total vaccinated nationally, would be nearly 20 million people, which illustrates just how well we have done locally. We try to keep a record of the latest figures and any other news on the Selsey Medical Practice website so do visit if you want to see the latest stats for ChAMP and updated info. www.selseymedicalpractice.co.uk/covid-vaccination
The figures for Selsey Medical Practice are even better:
37% of all patients have been vaccinated
95% of over 80's
95% of over 75's
93% of over 70's
86% of clinically extremely vulnerable patients
96% of care home residents
The Selsey Centre will re-open on Wednesday 17th to deliver our latest consignment of the Pfizer Vaccine. The bookings team are now inviting those in cohorts 5 and 6 (All those 65 years of age and over, and Adults aged 16 to 65 years in an at-risk group). We have received many questions regarding the nature of the "at risk" category. The definitions provided in Government documentation are quite lengthy, so we have added a table to our website about half way down our vaccination page here www.selseymedicalpractice.co.uk/covid-vaccination if you want to check them.
Many of you will have heard that a mass-vaccination centre is opening in the Westgate Centre in Chichester. This is being run by another organisation and it makes use of the national bookings service. If you are in the right cohort you can book your vaccination at this centre using their on-line system. If you prefer to visit Selsey, you will need to wait for our bookings team to contact you. If you are in the first 4 cohorts and you are worried that you have been missed, you can now email your contact details - or those of a friend or relative (including name, date of birth and phone number) to them at ipc.covidcatchupchichester@nhs.net . The bookings team will use these details, in addition to their normal lists, to contact you by phone to make a booking.
Despite the large numbers being vaccinated we cannot afford to become complacent and must maintain social distancing and the other COVID-19 prevention measures. A contained outbreak at a care home has caused a recent increase in the number of COVID-19 cases in Selsey.
The regional NHS team wish to reassure local residents that the outbreak has been contained, but if you develop COVID-19 symptoms you should self-isolate immediately and book a free test as soon as possible at www.nhs.uk/coronavirus or by calling 119.
The best way to prevent the spread of infection is to follow national lockdown rules, wash your hands regularly, wear a face covering when required and to maintain a social distance from others outside of your household.
A mobile testing unit will be available in Selsey (East Beach car park) from Tuesday 16 February to Sunday 21 February so that anyone in the town who develops COVID-19 symptoms can arrange a test quickly and locally, without having to travel far from their home. This will be by appointment only at www.nhs.uk/coronavirus or by calling 119.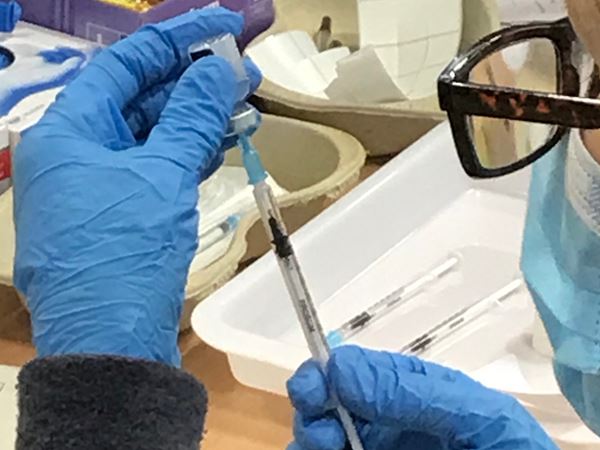 10th Feb 2021
Vaccination Centre Update 10 Feb. 21
On Saturday the Selsey Centre had their busiest day, delivering 630 vaccinations to over 70's and extremely clinically vulnerable members of the Chichester community. It was remarkably calm and there were no queues outside. Everyone in the hall felt uplifted by the great achievement as well as the background music, keeping patients and staff entertained!
It is an enjoyable and rewarding place to work and we have been well-supported by a dedicated team of volunteers, who guide and care for the patients as they move through. The photo shows one of our doctors very calmly and carefully drawing up a dose of Pfizer vaccine - the reason we are all here.
We are now approaching the 4 week point since we began our vaccination programme in Selsey and Tangmere, and we have already vaccinated more than 20% of the whole population - well ahead of the national figure. Before we are allowed to move to the next cohorts we have to reach as many of the remaining list of patients in groups 1-4 as possible. The bookings service has been inviting people from lists generated from GP notes but this week we were able to publish an email address (ipc.covidcatchupchichester@nhs.net) to which anyone who is yet to be vaccinated in the first 4 cohorts can send their name, date of birth and contact number. Practices have also sent text messages to patients with mobile phones, giving them a number to ring to contact the bookings team. The team are making every effort to book the remaining few patients by using all three sources, but it has meant that some people are being called more than once - we hope you accept our apologies for this. The old "bus analogy" springs to mind - you have to wait for a while, then two or three come along at once!
We mainly serve the Witterings and Selsey practices here at the Selsey Centre but working from a list that covers the whole ChAMP area has meant that those of us who are chipping in to support the bookings team have also been able invite some residents from central Chichester practices. The AA have provided clear signage, but we are easy to find - "bear left after ASDA" is a commonly heard phrase coming from our "mission control" room! All of the out-of-town visitors were impressed with the good parking, spacious facilities and caring, efficient team and all were pleased to get their jab. Many had not been to Selsey before and we hope they will return when the conditions allow and weather is better, so they can discover more of what Selsey has to offer!
If you are still waiting for your call or you know someone who is, please make use of the email address or contact your GP practice so they can help you to make a booking. If you are in cohort 5 or beyond, we hope to begin vaccinating you very soon.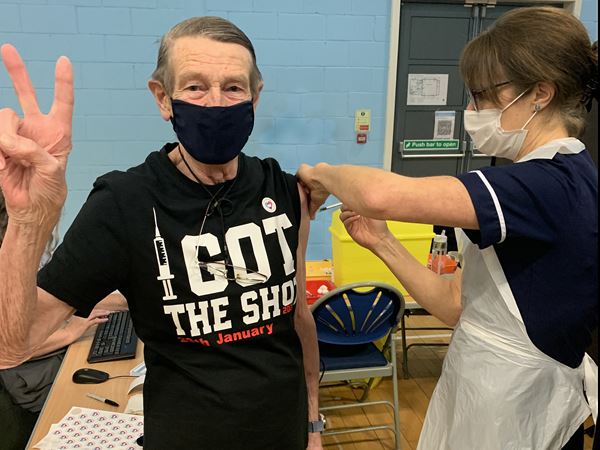 1st Feb 2021
Vaccination Centre Update 1 Feb. 21
He "got the shot"! The spritely gentleman in the photo was rightly proud of his t-shirt, which his daughter made him for the occasion. He was so full of joy and energy it gave us all a real boost. His positive response was just one of many emotional moments we have experienced during the last week. Being in a position to phone someone who has been confined to their home for months to tell them that they can come for their vaccination, and to offer them some hope at last, is a real privilege, as is working alongside so many caring and dedicated volunteers and talented, experienced clinicians.
Everyone has remarked that they have received so many "thank-you" comments (as well as some delicious cakes and biscuits!) There have been some lovely messages too, on social media and in person, including a very thoughtful poem. This is now displayed in the "cake zone" where staff can make a cup of tea and take a short break – it was even laminated, making it "CQC-compliant"! On behalf of everyone at the centre – thank you for all your support.
Chichester Alliance of Medical Practices (ChAMP) have now vaccinated 13.6% of the local population which compares well with the UK national average of 13.4%. This means that 80.8% of ChAMP patients aged over 80 years have been vaccinated and we have also reached 20.0% of ChAMP patients aged 75-79 years. We have also vaccinated all residents in our nursing and care homes. We will do all we can to meet the government's ambition of vaccinating cohorts 1-4 before Feb. 15th, although this will be quite a challenge given the demographics of our community.
The bookings team are currently calling patients in the 3rd and 4th cohorts (Patients over 70 years old and clinically, extremely vulnerable individuals over 16 years old), but they are also still trying to reach the small number over 80s who have not yet been vaccinated. Please do ask your relatives and neighbours if you think they may be in this group. If so, they should contact their GP surgery (Selsey Medical Practice is 01243 608201) and a member of staff there will try to arrange an appointment or a home visit if the person is housebound. You can make this call on their behalf if they have difficulty using the phone. Julie Fullick (07590 060 234) is still kindly coordinating the wonderful driver volunteers if transport to the centres is a problem for these elderly residents.
Subject to delivery, the next vaccination clinics are as follows:
3 – 5 Feb Selsey Centre
5 – 6 Feb Tangmere Village Centre
We may also run an additional clinic at Selsey on Saturday 6th if we have enough supplies of vaccine.
IMPORTANT MESSAGE REGARDING THE NHS LETTER INVITING PATIENTS TO THE MASS VACCINATION CENTRES. If you have received one of these letters, you can receive your COVID vaccination at one of the Mass Vaccination Centres at Brighton or Portsmouth. You can book these yourself, following the guidance in the letter. It obviously helps spread the work of vaccinating the whole adult population if you take up the offer and we would encourage you to do so if possible.
If you can't or do not want to attend one of these Centres, you do not need to take any action – the booking team will contact you to invite you to one of the local hubs at Tangmere or Selsey, although you may have to wait longer for this. We are aware that NHS 119 are telling patients to call their GP Surgery to book locally; please do NOT do this unless you are in the over 80's cohort (see above), as it is a separate organisation in our area that is making bookings for most people, not the GP surgery (who would become overwhelmed with calls on top of their normal surgery work). Thank you.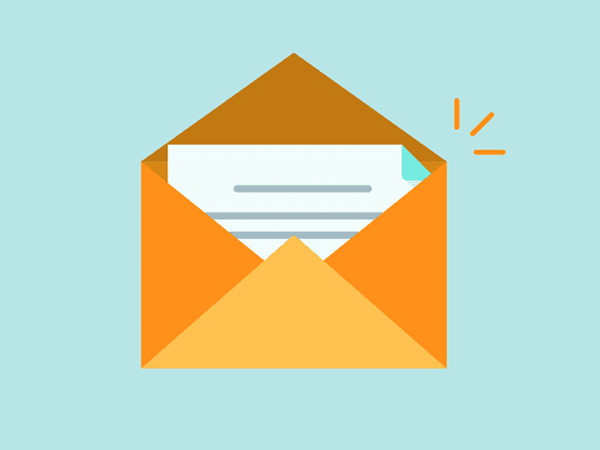 30th Jan 2021
Vaccination Centre Update 30 Jan. 21
We have had a few enquiries today from patients who have received letters from NHS England offering vaccinations at the large centre in Portsmouth. This is part of the drive to get as many people vaccinated as soon as possible and is running alongside the local service being offered in Selsey and at Tangmere.
If you receive a letter, you should see a link to an online booking service, or you can telephone NHS England on 119 and they will help you to make an appointment at Portsmouth.
We strongly encourage you to take up this offer – hopefully you will be able to organise transport with a friend or relative if you have enough notice. If you have received a letter, please do not bring it to Selsey or Tangmere as these clinics are fully booked each day through a different system and they will not be able to accommodate additional numbers.
The local services will continue to deliver as much vaccine as we can get, but if you receive a letter, please use the information to get your vaccine from the larger centre if you can, and we will be able to make much faster progress and reach more people sooner. Thank you.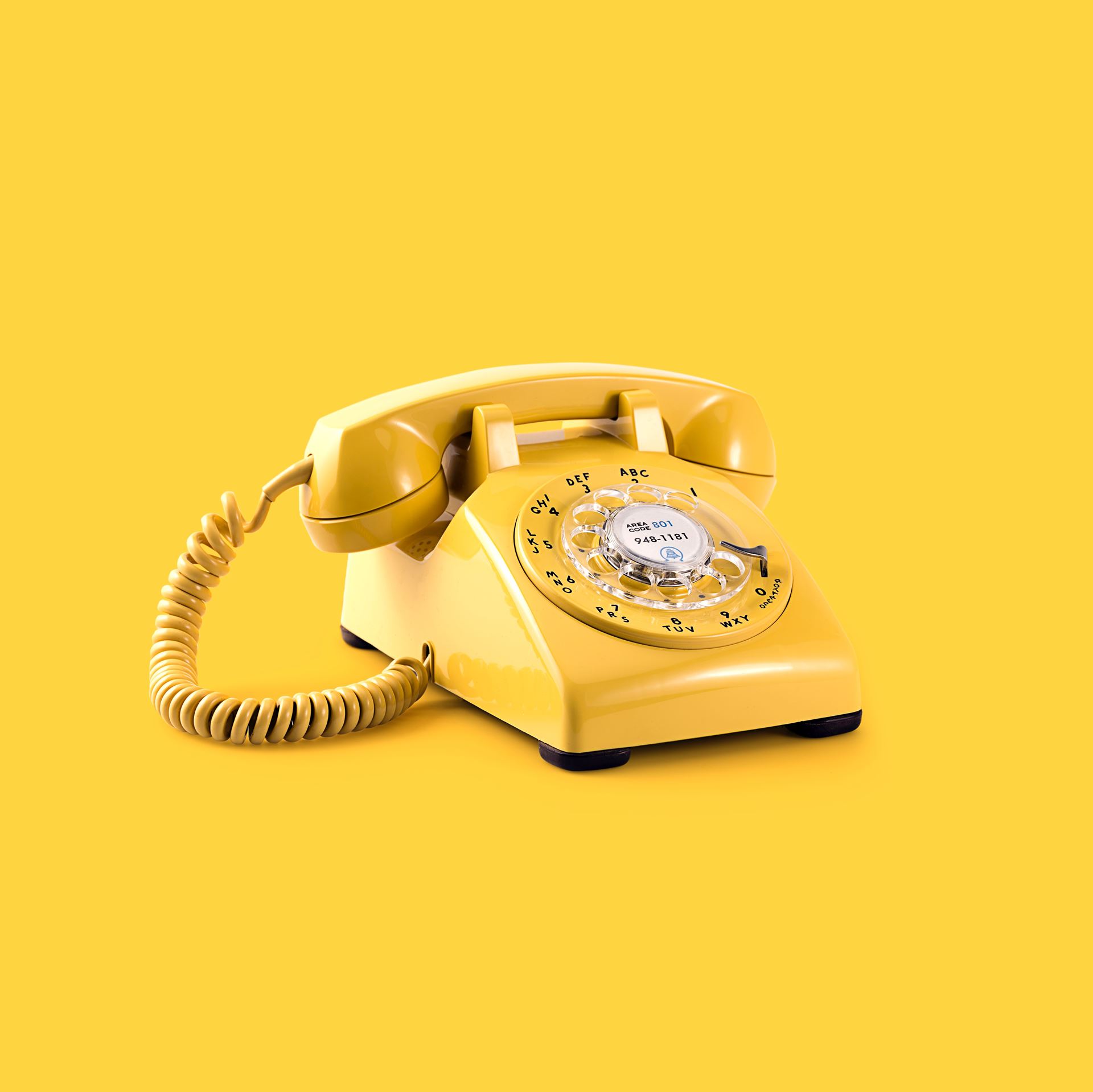 29th Jan 2021
Vaccination Centre Update 29 Jan 2021
This is a "mini-update"! FOR ANY OVER 80s PATIENTS WAITING FOR VACCINATIONS
Following on from yesterday's update, the staff at Selsey Medical Practice are now geared up make bookings for any remaining over-80s patients who have yet to have their first vaccination. There are a few appointments for this weekend, but it is most likely that they will be asked to attend a clinic on Wednesday 3rd, Thursday 4th or Friday 5th Feb, next week.
To make an appointment they (or a relative, carer or friend) can ring the surgery on 01243 608201. If you are reading this and have a neighbour or relative who you think may still be waiting, please pass this on, and if they need your help, please do call on their behalf.
If you are not in the over-80s cohort please do not ring the surgery; instead, please be patient and expect a call soon. If you have a recent new mobile phone number, please make sure you email your updated details to the surgery (cwsccg.selsey-selsey@nhs.net) or call and tell them, to avoid missing a call/text. Thank you.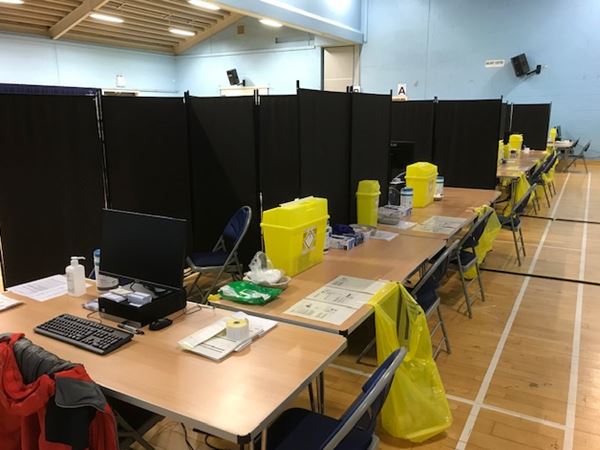 28th Jan 2021
Vaccination Centre Update 28 Jan. 21
After a short gap in deliveries, the latest batch of vaccine arrived this afternoon at Selsey and clinics will be running there on Friday 29th, Saturday 30th and Sunday 31st Jan. The Tangmere Village Hall centre will be running concurrently.
The progress made by the teams so far has been very impressive, managing to get over 1100 doses from each box of vials, and although the published figures on the Selsey Medical Practice website for ChAMP (Chichester) practices are now a few days old now, it is clear that in a short period of time, we have been able to provide first doses to well over 10% of the community – ahead of the National average figure. The people who have been vaccinated so far are those in their 80s and 90s, Care home residents and front-line health and care workers.
This week the bookings team have begun offering appointments to the next cohort (those who are 75 years old or older) because it is important to have full clinics and keep working down the cohorts, however they do know that there are still some older patients they still need to reach. We are aware that some patients don't have internet access, and can't use the self-booking text service, and some may have hearing problems or other conditions that make it difficult for them to receive phone calls. Some may have even been ill or unable to organise transport when offered an appointment. The staff at Selsey Medical Practice have identified those patients who have not had their vaccination yet. The Practice is developing a plan to ensure that nobody is missed. This is likely to involve other methods of making contact and may involve relatives, carers and friends. They will share details of how this will happen as soon as the strategy is finalised, so please don't contact the surgery yet as they have to manage their normal workload. They also understand that there are some housebound residents and there will be a mobile visiting service for these people. If you are registered at another ChAMP practice, they will also be making their own arrangements to reach all their patients, so please be patient for a few more days.
During the short, imposed break this week, the team have made some changes within the Selsey Centre; there is now a much better internal queuing system, so if there are any delays, our patients will be able to wait inside in the warm and dry. Rearranging the work areas where the vaccines are made up should also speed things up so things will flow smoothly. The Tangmere team have been adopting the same strategies and although their building layout is a little different, they are offering a very similar experience. The philosophy of both teams is to always remember that as well as giving vaccinations safely and efficiently, we are part of a caring profession as well and we will do all we can to reassure, assist and look after the people who we serve; we hope we get this right.
The photo shows the layout of the Selsey Centre hall (a bit of a change from Badminton or Pilates classes!). The five screened-off areas where vaccine is given are affectionately called "pods" and at the back of these pods, the clinicians sit, preparing the doses. The rest of the hall is mostly a waiting area because every visitor must wait and be observed for 15 minutes after the Pfizer vaccine. As you enter the building, you will have your temperature taken and then be asked for your name so we can check you against the booked list. Once inside the main hall one of our lovely marshals will direct you to the next available pod. It will be helpful if you can wear clothing that allows fairly quick access to your upper arm.
We are very grateful to the staff at the Selsey Centre for accommodating us. We have been told that they are receiving a lot of calls and even visits from anxious patients asking about bookings or enquiring when clinics will be running. The Selsey Centre are NOT managing the bookings and have their work cut out keeping the centre running well, so please don't contact them about the clinics. We will share all the up-to-date information we receive on the Selsey Medical Practice website https://www.selseymedicalpractice.co.uk/covid-vaccination and on social media, so please keep an eye out for messages and refer to these sources for any information.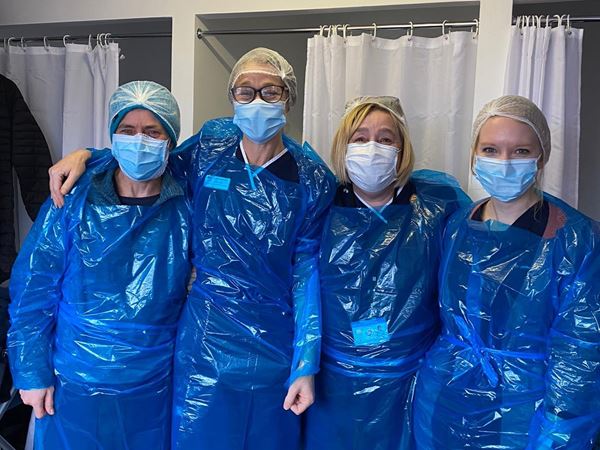 22nd Jan 2021
Vaccination Centre Update 22 Jan
Progress at our Selsey and Tangmere centres has been brilliant this week. On Monday I reported that in the Chichester area we had vaccinated 5.9% of the population; well, yesterday we finished our second batch of Pfizer vaccine and I can report that at that point over 8.3% have had their vaccine, exceeding the national average of 6.6%, so we are getting ahead of the wave. The figure for Selsey may even be closer to 10% than this by the time you read this. The photo shows a team of our wonderful nurses and doctors visiting one of our nursing and care homes. They have now vaccinated the residents and staff of all the homes, using the AstraZeneca vaccine. Our team of drivers, marshals, administrators, nurses, pharmacists and doctors have been refining our processes and also developing a good sense of comradeship. We think the booking service will smooth out soon so that people come along at more regular intervals throughout the day, which will hopefully mean there is no need to queue outside, but if you are given an appointment please wear something warm and waterproof just in case.
We think the message that "nobody will be missed" is getting out, and we hope you will continue to reassure your elderly neighbours and relatives that they will get their vaccine soon. Please don't come to the centre without an appointment, and definitely not if you are out of cohort because we can't vaccinate anyone outside of groups 1 and 2 until they are all done. If people are worried that we might have the wrong contact details they can contact their GP surgery to provide new phone numbers, or even a contact number of a carer or relative if they have hearing difficulties and fear missing a call.
Another NHS organisation (West Sussex CCG) are running the two centres on Friday and Saturday this week. They will be supported by many of our regular volunteers, and we wish them every success. The regular team will then pick up the reins next week, and we are expecting the next delivery soon. Thank you once again for the great comments and support we have received – including a lovely box of fruit yesterday!
---