Important information about Covid-19 Coronavirus
COVID-19 Coronavirus
IF YOU HAVE ANY OF THE FOLLOWING SYMPTOMS:
COUGH
RUNNY NOSE
SORE THROAT
FEVER
DIFFICULTY BREATHING
AND BELIEVE YOU MAY HAVE BEEN EXPOSED TO THE CORONA VIRUS OR TRAVELLED ABROAD IN THE LAST 2 WEEKS...
DO NOT COME TO THE SURGERY.
CALL 111 FOR ADVICE.
Welcome to Selsey Medical Practice
Our Philosophy of Care
This is very simple - every patient is entitled to receive the highest standard of care available. The doctors and staff wish to provide a friendly, efficient and personal service to all of our patients and we believe that in general we succeed.
We are not complacent and constantly strive to improve the care that we offer, actively engaging in audit of our performance in order to improve both our clinical performance and the service that we provide. The doctors and staff regularly attend educational courses to keep abreast of developments in care.
Families, children and their problems are very important to the doctors and we believe that an understanding of these problems and relationships forms the basis of a good general practice.
Our Mission Statement
'We strive to provide the highest standard of care available; we work to empower our patients to manage their own health'
Upcoming Events
Selsey Medical Practice and The Patient Group organise regular evening talks on a variety of medical topics.
We hope that these informative events are helpful and interesting to our patients. They are presented by specialists and there is usually an opportunity to ask questions and take home useful information.
Tea and Coffee are provided.
You are invited to attend this evening talk on the 5th of March.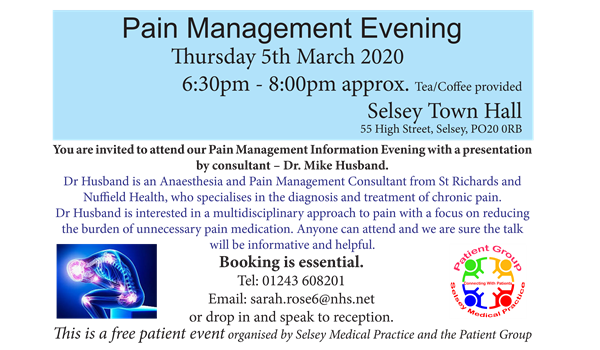 Patient Group
Find out more about our Patient Group
Newsletter
Download the latest newsletter Autumn 2019
To receive future editions of the newsletter straight to your inbox sign up below.